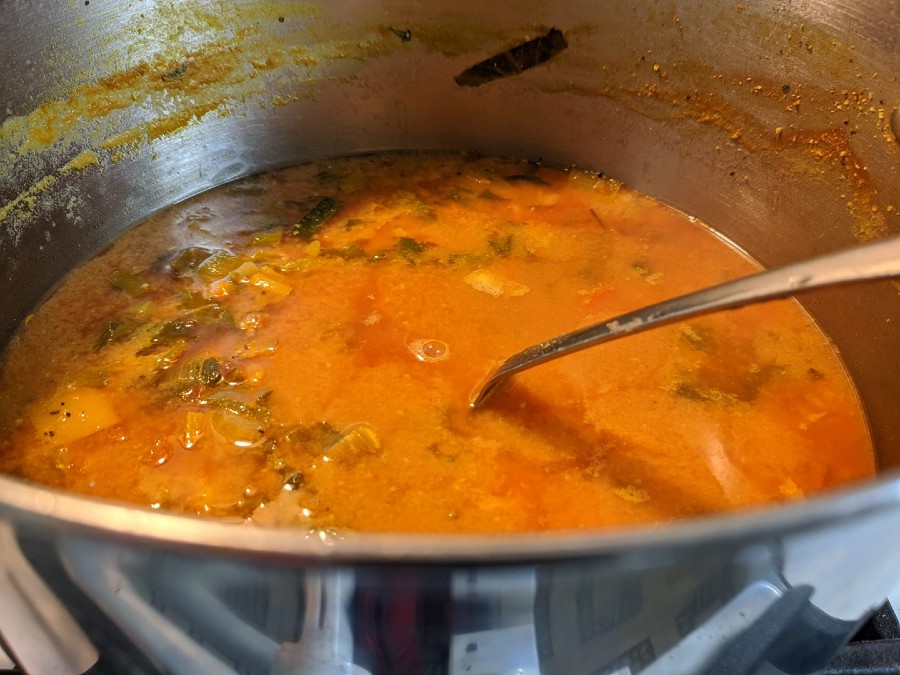 My cooking is like my music: There is always a story behind it. So as part of sharing the recipe for this soup, I'm going to share what led up to its creation.
I was very upset early this morning – to the point that I ended up convulsing in sobs, hunched over the kitchen island, following which my boyfriend woke up and came running to hold me. (He's awesome.) As per the usual, I had fallen through the cracks of social services, left to my own devices to come up with a way to cover my astronomical out-of-pocket healthcare costs, never mind living expenses – in this case, following the Coronavirus pandemic cancellation of all the concerts I had lined up for my band.
Most notably, we lost an all-expenses-paid university gig, replete with a car service sent to pick us up at the airport and take us to our swanky lodgings at the Marriott. I had painstakingly lined up those gigs, along with media coverage locally, nationally and internationally, to help propel forward my band, Iraqis in Pajamas; and I was counting on the exposure to take us to the next level – among other things, generating more income through more gigs. I'd been living on credit cards for over half a year, as I had built up the band, and suddenly – right as my cards maxed out – everything came to a grinding halt.
I'd heard that there is a lot of support being offered to people in a place of financial hardship as a result of COVID19, so I figured I'd throw my name into the hat. My only prior experience with social services was a couple decades ago, when I had debilitating chronic pain that left me alternately bedridden, housebound, or wheelchair bound for stretches of months at a shot, and I applied for some governmental assistance.
Not only was the process of applying for help both invasive and humiliating, but after being subjected to that nonsense, I discovered because I was the scrappy sort, figuring out how to secure writing gigs (working from what I dubbed my Chronic Pain BedQuarters), and because as a result, I was taking in about $1000 a month (which was hardly enough to survive, never mind get much-needed massage therapy, to help manage the pain), I was disqualified from any support whatsoever. The financial cutoff was some absurd amount that hardly would enable someone to eat while living on the streets, and after falling that far down, I mused, with the meager amount the government offered, you might as well kiss your life goodbye.
I have a whole lot to say about the ways our society effectively encourages people to fall apart and fall down, instead of to heal and rise up, and in fact, I'm amidst writing an op-ed on topic. Suffice it to say that, after paying somewhere around $1 million in out of pocket healthcare costs, over the past couple decades of healing naturally from cancer and chronic pain, and having to figure out how to do it all outside what is supposed to be a safety net of social support, I was feeling some combination of exhausted and infuriated this morning, leading to that whole crumpled-over-in-a-heap-in-sobs thing.
On top of that, I had woken up with a dry cough and mild difficulty breathing, which frightened me. So I decided to put all my angst into preparing a nourishing and immune-boosting soup – which, in addition to getting heaps of cuddles by my boyfriend, calmed me way the fuck down, eliminated the cough, and got my breathing back to normal.
Here's what I threw in the pot, in case you'd like to create your own turmeric leek therapy soup! Because I've been getting a lot of requests for recipes, I'm trying to get better at remembering exactly what I did, not only in terms of ingredients, but also in terms of measurements.
About 3/4 leek, sliced
About 5 bulbs of brussel sprouts, sliced
Small piece of ginger, chopped
1 head of garlic, chopped
1 handful of pre-washed spinach and greens mix
1 tomato, chopped
1 red potato, chopped
1/2 sweet potato, chopped
1/2 carrot, sliced
1/4 beet, chopped
1/5 cauliflower head, chopped
cashew milk (2/3 water to 1/3 cashews, throw in blender)
tumeric
black pepper
garlic powder
chili pepper (or cayenne pepper? Hard to tell the difference, and I don't label my spices! But I think it was chili pepper.)
Cook on medium heat for about 30-45 minutes. (I was busy crying. I can't remember how long it cooked, but the liquid had receded quite a bit!) Bottoms up! May you be blessed with resilience and excellent health.
Oh, AND, great news! Shortly before writing this post, I was informed that given the overwhelming impact that COVID19 has had on musicians, Bandcamp is offering 100% of song sales to musicians if purchased today! (Usually they take about 25% of sales). You can purchase each of our songs for $1, on our BandCamp music page.