Receive the Gift of Self-Healing
Loolwa Khazzoom has self-healed from numerous chronic health issues – including chronic pain, asthma, nasal congestion, allergies, anorexia, and insomnia – through innovative and comprehensive mind-body-spirit methods she developed over the years, such as the Dancing with Pain® method of natural pain relief. Most recently, she cold-stopped the growth of thyroid cancer by radically altering her diet, then began shrinking the nodules by returning to her lost love of music.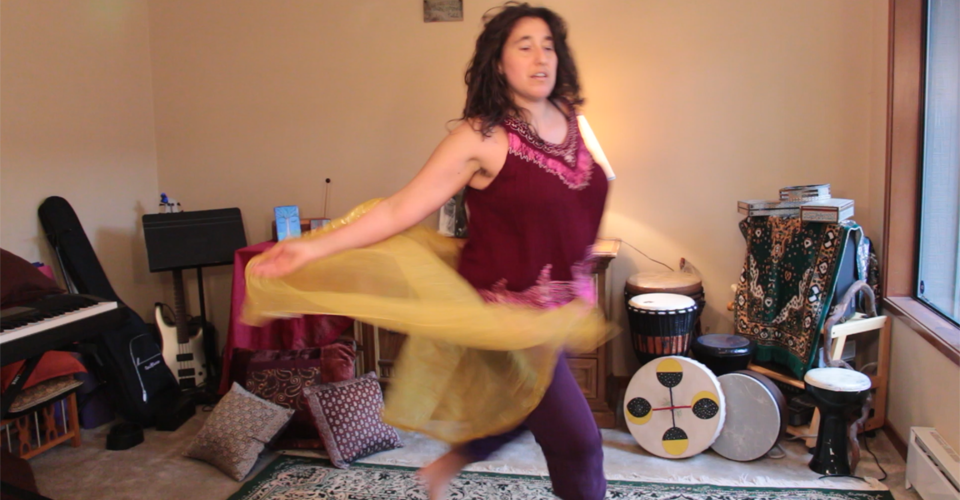 Loolwa has since guided people worldwide on how to self-heal, and she now offers private coaching, as well as live and virtual programs, on healing through music, dance, and lifestyle medicine. Find out more about her story of healing cancer naturally in this article, "Healing Journey Comes to Pegasus," and find out more about Dancing with Pain® in this Johnson & Johnson video, where Loolwa shares her story and describes the method. Below the video, see what Dancing with Pain® students have said about their experience!
Dancing with Pain® Testimonials
"I have hope again. Now I know I don't have to live the rest of my life in pain." –Desdemona (Fibromyalgia)
"There were movements that I hadn't been able to do in years, that I was able to do in the Dancing with Pain® class." – Jenny (Lupus)
"I feel true joy and love for my body again!" – Gail (Chronic hip pain)
"I felt safe in Loolwa's Dancing With Pain® class. Her voice guided me gently throughout the session – reminding me of the power I have inside. I had severe pain at the beginning of class, and I thought I would only dance in my imagination. Instead, I was surprised to find my body moving organically, without even realizing I had started moving! I felt significantly less pain by the end of the class." – Cynthia (CRPS)
"I feel much more relaxed and pain free! I also feel more joyful and confident." — Maya (Migraines)
"The Dancing With Pain® class was a real blessing. I felt much better when I walked out than when I walked in. Perhaps most importantly, Loolwa shared mind and body tools for transforming pain that I have been using since the class and that have had a very positive impact on my life. If you're at all hesitant to attend a class, don't be. The atmosphere is safe and nurturing. Thank you Loolwa!" — Daniel (Chron's Disease)
"Loolwa gave us the permission to move without self-criticism. The experience was releasing and elevating, and I had significantly less pain and greater mobility by the end of class." – John (Back pain)
"I really loved it. It was very freeing, expansive, and a lot of fun…I see it as a way to open up and give me more room to move without any pain or problems." – Beverly (Chronic soaz pain)
"The Dancing with Pain® class was excellent. It left me with a warm feeling in my muscles and more freedom from pain." — Judy
Get started on a self-healing journey!