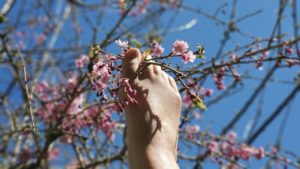 In some ways, I have barely noticed that the world is under lockdown. In other ways, my life has gotten easier. That's because I have been living with and healing from chronic health issues for the past two decades.
Among other considerations, I have physical and auditory hypersensitivity that make gatherings dicey and crowds a no-no. In addition, after being in numerous car crashes, none of which were my fault, but most of which sent me down the rabbit hole of pain and disability, I don't exactly trust other drivers – making it anxiety-producing to get to events outside my area. Then there's the fact that I need to take a ferry to get most places, and that drivers routinely ignore the signs to refrain from idling their engines while waiting for the ferry – meaning car exhaust is in overload on the ferry dock, making it downright toxic to get from "here" to "there," in particular, because I am healing naturally from cancer and need to be mindful about my environment.
All told, I have not participated in a whole lot of community-type stuff for many years, choosing instead to self-isolate. Now we're all self-isolating. Woowoo! Party! Suddenly all kinds of things that I want to participate in are accessible to me – like Friday night prayer services, where I have the ability to adjust the volume of my speakers instead of plugging my ears, if the leader is singing too loud or if some kid is being noisy (as often happens in brick and mortar synagogues). In addition, I am able to attend egalitarian Sephardic services, which are a new thing worldwide, but always have been outside my immediate area, unless I have been leading or helping lead them. And all kinds of interesting virtual programs and community gatherings are starting to become available – including concert series for local musicians who suddenly can't perform anywhere.
I haven't exactly jumped on the bandwagon over the past month, mind you. I've been in a daze of sorts, for a few reasons: First, all the momentum I'd been building for my band suddenly crashed and burned, when our national concerts were all canceled. Second, hand-in-hand with that, my expected income streams dried up, and I had to figure out how to keep a roof over my head and food on my plate. Third, I got sick for the better part of two weeks, with respiratory issues – which kind of freaked me out, given the Coronavirus hysteria, though I was able to minimize symptoms through a host of self-care practices. Fourth, I was busy running around – first in person, then online – trying to find essentials like toilet paper, hand sanitizer, and cough syrup, in a marketplace that had gone stark, raving mad.
And fifth, as has been the case over the past nine months, I was grieving for my mother, whom I lost in July. My get up and go seemed to have gotten up and went, and I just couldn't do the quick-thinking pivot that had been my signature move for so many years.
In retrospect, however, I really needed the down time. Not only have I been powering through life for the past two decades straight, coping with a hit-and-run car collision and cancer diagnosis, as well as my mother's traumatic brain injury, dementia, and series of life-threatening emergencies in between, but I also haven't stopped since taking off a couple weeks, following my mother's transition to the next life. I threw myself into my music, to keep my Life Force going. And when everything I'd been building up suddenly stopped, well, I kind of did too.
But I'm getting back up on the proverbial horse now, and am excited about the possibilities abounding in this lockdown world. I'm building up the band's Patreon site – where I'll be offering virtual concerts, among other goodies; I'm launching a series of YouTube conversations with thought leaders and change makers in the worlds of medicine and the arts; and I'm finally (finally!) getting into gardening, with my boyfriend's help clearing out the hothouse that the first owners of my home built in the yard. As a former PR client of mine, Michael Finkelstein MD – the Slow Medicine Doctor – says, gardening is the best medicine – combining physical activity, sunshine, fresh air, food, and fun.
Tasty tomatoes, here I come!
While I am someone who always looks for the light amidst darkness, I will never be one of those people who thinks everything happens for a reason (ie for the good) and who extols the virtues of an otherwise horrific experience. While I enjoy the perks of virtual living, I also recognize that many people are suffering – those who have gotten sick and died from Coronavirus, the loved ones of those people, the people stuck in tiny, cramped, urban apartments – in particular, now that public parks have been closed, the people who are homeless or in prison, the people stuck with their abusers in domestic violence situations, the people dealing with natural disasters like tornadoes or earthquakes, in addition to a global pandemic, and so on.
I am only one person, so my ability to contribute and effect positive change is limited. But I believe that through returning to my writing and sharing my experience and knowledge about self-care and self-healing; through additionally launching YouTube conversations with cutting edge doctors and wellness practitioners about self-care and self-healing; through sharing heart-centered original music, improvisational dance, and traditional Iraqi Jewish prayers; and through the host of other things I'm now offering up in this virtual world – from my Kitchen Pirates group on Facebook to my personal and professional coaching – I can make a positive impact.
Better yet, I can do it from my couch.
If you value the experience and perspective I offer in this blog post, please share it on your social media platforms, so that it reaches the greatest number of people, through a grassroots effort. Please also post your thoughts in the comment field below, to help generate thought-provoking social dialogue. Remember to be respectful and constructive, even when you are expressing a critique or challenging someone's viewpoint!
In addition, over the past year, I have been reworking my life so that I can offer to everyone the benefit of my own journey of healing and transformation. If you would like to find out more about it, read My Grand Healing Adventure. If you would like inspiration and guidance on how to self-heal and implement mind-body-spirit practices for stepping into your greatest Being, contact me for any of the following:
Lastly, if you'd like to become a patron of my band, please visit our Patreon site!