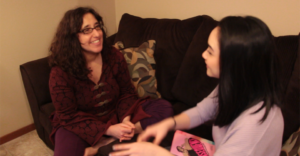 I started my career in media, marketing, and PR when I was 17 years old, a senior in high school, creating an activist response to the pending budget cuts to education in California. Read the story about Save Our Schools, and its foray into top media, for more details. Over the years, as my work morphed into activism and education on various matters, I discovered that I had an unusual talent for getting issues into media – in particular, for getting media interested in matters it previously had ignored. One thing led to another, as it goes in life, and I ended up working as a journalist and a publicist, in turn.
Today I am returning to my activism and education roots, by expanding my business from private PR services to online courses, both live and on-demand, in which I am teaching a DIY (do it yourself) approach to everything I do for my private PR clients. I am passionate about teaching, in particular, in guiding people on how to manipulate the heck out of the system and leverage everything at our disposal, to make the world a better, brighter place.
For those of us who are thought leaders, movers and shakers, and general rabble rousers, running a business is not just a job; rather, it's a passion, a mission, a platform for social change. To join forces with others of the same ilk, and to amplify our individual impact, I am offering several options for working with me collaboratively. I am particularly interested in working with exceptional business coaches, life coaches, marketing specialists, motivational speakers, and health coaches, as we are likely to have the same audience but support our clients in complementary ways.
Here are some collaboration possibilities:
Affiliate Sales
My audience is likely to intersect with your audience – in which case, I invite you to share with your audience the benefit of my online programs. You can see the latest roundup on my online store. When you sign up to be an affiliate, you will receive a unique URL through which your followers can sign up for my programs. When they do, you will receive 15% of all associated fees. In addition, to encourage your followers to sign up for my programs through you, instead of directly through me, you will receive a coupon which your followers can use, to get 10% off all my online programs. Sign up for my affiliate sales program!
Co-Presentation
When I find people who excel in their field, I enjoy discussing the intersections of our work and developing collaborative programs that enable participants to benefit from the respective experience and wisdom of my work and that of my co-presenter. You can see an on-demand program example in my online store, 3 Steps to Game Changing Marketing, which I developed with business coach Maureen C. Jacobson. If you'd like to become a co-presenter, please contact me.
Referral Appreciation
My favorite clients all came through referrals, in particular, through business and life coaches. For this reason, I have a Referral Appreciation program, in which I offer a thank-you gift, sharing a percentage (which varies, depending on the contract) of the contract fee. When you refer your clients to me, please make sure that either they or you tell me, so that I can properly appreciate you!