Receive the Gift of Self-Healing
Following a hit-and-run, head-on car collision in 1997, Loolwa Khazzoom entered the cauldron of the healthcare system, going from bad to worse over the better part of a decade. Debilitating chronic pain left her alternately bedridden, housebound, and wheelchair bound, for stretches of months at a time, until 2005, when Loolwa had an epiphany that by reconceptualizing dance, she could use it to heal herself. She went ahead did just that – not only getting completely off pain meds of any kind, but regularly hiking, biking, swimming, and of course, dancing, pain-free.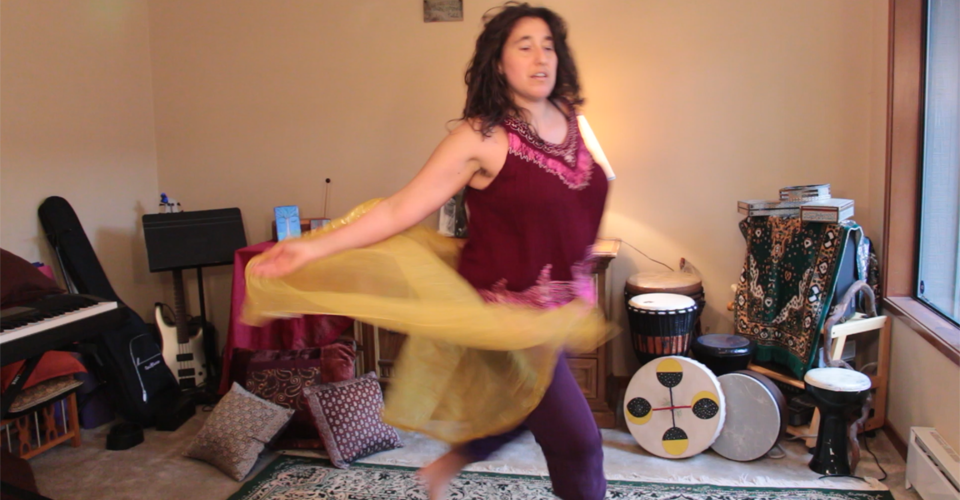 Program Details
In this safe and healing movement class for people in pain, Loolwa teaches the method that healed her and that informal preliminary trials indicate has a 96% rate of efficacy in healing chronic pain. You will learn how to comfortably dance from the spaces in your body that feel good, even if just in your imagination; you will learn how to fill these areas with powerful, transformative, and healing energy; and you will learn to use dance as a tool for dialoguing with and softening pain, as well as for distilling and channeling the raw energy of pain – ultimately learning how to "recycle" pain to heal itself. Following this class, you can practice Dancing with Pain® in your own home, even while lying down in bed (which some affectionately call the Bedwiggle).
Dance Method in Action
Find out more about Dancing with Pain® in this Johnson & Johnson video, where Loolwa shares her story and describes the method. Below the video, see what program participants have said about their experience. Click here to book Loolwa for a Dancing with Pain® program!
Program Testimonials
"I have hope again. Now I know I don't have to live the rest of my life in pain." –Desdemona (Fibromyalgia)
"There were movements that I hadn't been able to do in years, that I was able to do in the Dancing with Pain® class." – Jenny (Lupus)
"I feel true joy and love for my body again!" – Gail (Chronic hip pain)
"I felt safe in Loolwa's Dancing With Pain® class. Her voice guided me gently throughout the session – reminding me of the power I have inside. I had severe pain at the beginning of class, and I thought I would only dance in my imagination. Instead, I was surprised to find my body moving organically, without even realizing I had started moving! I felt significantly less pain by the end of the class." – Cynthia (CRPS)
"I feel much more relaxed and pain free! I also feel more joyful and confident." — Maya (Migraines)
"The Dancing With Pain® class was a real blessing. I felt much better when I walked out than when I walked in. Perhaps most importantly, Loolwa shared mind and body tools for transforming pain that I have been using since the class and that have had a very positive impact on my life. If you're at all hesitant to attend a class, don't be. The atmosphere is safe and nurturing.  Thank you Loolwa!" — Daniel (Chron's Disease)
"Loolwa gave us the permission to move without self-criticism. The experience was releasing and elevating, and I had significantly less pain and greater mobility by the end of class." – John (Back pain)
"I really loved it. It was very freeing, expansive, and a lot of fun…I see it as a way to open up and give me more room to move without any pain or problems." – Beverly (Chronic soaz pain)
"The Dancing with Pain® class was excellent. It left me with a warm feeling in my muscles and more freedom from pain." — Judy
Book Loolwa for a Dancing with Pain® program!