Big on Fashion
Where does a woman with style, and substance, find clothes in Tel Aviv?
(Jerusalem Post)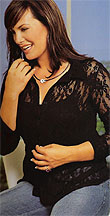 With its never-ending parade of anorexic-looking girls in high-fashion gear, Tel Aviv easily could be renamed the City of Lost Runway Models. Against this backdrop, where do thick chicks with style go to shop? For my 35th birthday, I took my size 46 self on a quest to find out.
My first stop was the Azrieli shopping mall. With a plethora of stores under one roof, I reasoned, the mall would definitely have something for me.
"I'm sorry," sales clerks repeatedly told me, "our largest sizes are 40-42." There were a few stores with "plus size" attire, but more often than not, the fabric was synthetic, the price was unreasonable, and the style was anything but young and hip. (full article)
From the Jerusalem Post, October 27, 2004, by Loolwa Khazzoom. All rights reserved. No portion of this article may be used without the author's permission.