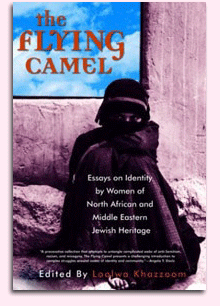 The Flying Camel: Essays on Identity by Women of North African and Middle Eastern Jewish Heritage (Seal Press, Winter 2003) brings to the public eye a world often hidden from view. Anthology contributors bridge divisions between Arab and Jew, East and West, and they are impacted directly by tensions between Islam, Judaism, and Christianity. Contributors possess the refreshing lens of those on the edge, insiders and outsiders to many different worlds. Pushed and pulled by the strong currents of today's identity politics, they remain steadfast and refuse to be defined as "other" or "less than" by any of the communities to which they belong. As such, their stories sweep readers into a surprising journey of discovery. Each essay unveils the rich, multi-colored texture of identities commonly portrayed as one-dimensional or black & white.
Seventeen women share the joys and struggles of stepping forth from the shadows, demanding to be heard. Vivid, gripping narratives include the daring of a young Libyan woman who single-handedly rescued her family from assassination and the sexual rebellion of a traditional Iranian woman who grew up wearing a veil.
Early in the feminist movement, it was ground-breaking when anthologies were published representing African, Asian, and Latina women's voices. The Flying Camel will similarly challenge and impact the world of Jewish women's literature specifically and women's literature in general. For this reason, numerous feminist leaders already have endorsed this book, including Rebecca Walker, Angela Davis, Letty Cottin-Pogrebin, and Susan Weidman Schneider. In addition, professors from Harvard, Yale, Princeton, Columbia, Stanford, and numerous other private and state schools throughout the country have endorsed the book. Click here to purchase the book on Amazon.com.
Anthology Summaries
Farideh Dayanim-Goldin
"Feathers and Hair"
In preparation for her cousin Farnoush's wedding, young Farideh Dayanim joined a group of family women plucking chickens for the feast. Little did she know that in the room adjacent to the kitchen, the bandandaz was plucking the bride's body hair. The women in the kitchen were almost at the end of the pile of chickens, when Farideh heard heart-wrenching screams coming from her cousin and ululations of women covering the screams. She jumped up to help, when her mother pulled her down with a knowing smile on her face. What was going on? No one seemed to want to talk about it. Instead, the women in the kitchen joined the other women ululating, to help drown out the screams...

Ruth Knafo-Setton
"The Life and Times of Ruth of the Jungle"
Ruth was the only family member allowed on Sa'adia's rooftop paradise, where he kept fifty pigeons in two brass cages. The cage doors were left open, the way the doors to the mella ­ the Jewish ghetto ­ were left open. At a whim, Sa'adia could lock in the birds, and the Sultan could lock in the Jews. Seeking a new life free of harassment, the Knafo family fled to America and tried to pass as French Christians...until Ruth's aunt, psychotic from years of beatings and humiliation by her anti-Semitic husband, followed Ruth and her sister like a witch out of horror movies, crying, Jews! Morocco! They're lying! Jews! Morocco!²

Gina Bublil-Waldman
"Souvenir From Libya"
As Libya turned against its Jewish citizens in a campaign of rape, murder, and destruction, nineteen-year-old Gina Bublil and her family boarded an empty bus to the airport, in a desperate attempt to flee. In a remote area outside the city, the bus driver stopped and poured gasoline around the perimeter of the vehicle, attempting to set it on fire. Gina raced off the bus and pushed past the burly men standing in her way, in a bold plan to save her family's lives.

Julie Iny
"Ashkenazi Eyes"
My mom is from Missouri and my dad is from India,² she replied. Indiana?² he asked, confused. No. India.² she clarified. As Julie mapped out her father's migration from Iraq to India, David informed her that Mizrahim (North African/Middle Eastern Jews) are violent, racist, and greedy, in contrast to civilized Ashkenazim (Northern European Jews). Feeling suddenly paralyzed, disembodied, and violated, Julie realized that yet again, her hazel-green eyes and light skin crossed her over the border and into hostile territory, where she was accepted only if she gave up half of her self.

Bahareh Mobasseri-Rinsler
"Vashti"
Purim is a holiday celebrating the liberation of Jews in the Persian Empire. Central to the story are two women, Vashti and Esther. Queen Vashti outright and publicly defies the king and subsequently is punished with exile. Esther ­ a beautiful, virtuous, and self-sacrificing Jew ­ is chosen to replace Vashti. Bahareh Mobasseri-Rinsler challenges the Esther-Vashti dichotomy as the classic virgin-whore split and explores the ways in which Iranian Jewish girls are brought up in the cult of Esther.² Bahareh raises the flag of sexual rebellion, embracing Vashti's passion.

Yael Arami
"A Synagogue of One's Own"
Whether teaching older women to read the prayers at her Yemenite-Israeli synagogue, or refusing to wait on the men in her family during the Sukkoth holiday, Yael Arami's defiance challenges divisions between religious observance and feminism. Well-versed in ancient Jewish law and ritual, and the first Yemenite woman to receive rabbinical training, Yael leads the way for the newly-forming religious Mizrahi feminist movement.

Rachel Wahba
"Benign Ignorance or Persistent Resistance?"
The daughter of an Egyptian Jewish refugee father and an Iraqi Jewish refugee mother, Rachel Wahba was born in India and grew up stateless in Japan. Throughout her life, she clung with fervor to the only identity she had: Jew.² When she immigrated to the United States as a young adult, however, she found herself rejected by the very community to which she clung. Unable to fathom a dark-skinned Jew who had strange, exotic² ways and did not speak Yiddish, American Jews refused to accept Rachel as one of their own. Standing tall as an Arab Jewish lesbian, Rachel demands recognition and inclusion on all fronts.

Ella Shohat, Tikva Levy, Mira Eliezer
"Mizrahi Women in Israel"
At the Tenth National Feminist Conference in Israel, harsh confrontations broke out between the Mizrahi participants and the conference leaders ­ confrontations parallel to those that broke out in the late 1970s and 1980s between African-American women and American feminist leadership. Ella Shohat, Tikva Levy, and Mira Eliezer led the way in challenging the hegemony of Ashkenazi women in their formulation of feminist theory; their attempts to silence Mizrahi women; and their attempts to distance from leadership Mizrahi feminists who would not accept the thinking and strategy of Ashkenazi feminists.

Mojgan Moghadam-Rahbar
"Secrets"
After Hayat gave birth to her fourth daughter, Yahya put together an ancient herbal formula for having a son. The formula worked repeatedly for himself and others, and everyone began demanding it: couples who were desperate to have sons, because they had too many² daughters; couples who had sons but wanted more; and women who wanted to avoid the evil tongue and gossip of their in-laws, as well as the cold shoulders of their husbands, should they not produce sons during their first pregnancies. When an overdose killed a mother-to-be, the formula was finally put to rest. But three generations later, as Hayat and Yahya's great-granddaughter Mojgan scanned the women's faces at her son's circumcision, she knew that times had not really changed.

Kyla Wazana Tompkins
"Home is Where You Make It"
From the African Students and Arab Students groups on her college campus, to an International Gay and Lesbian Jewish Conference, Kyla Wazana Tompkins navigates non-stop through the world of identities. The daughter of Irish Catholic and Moroccan Jewish immigrants to Canada, Kyla defies our stereotypes and pushes our comfort zones, challenging us to re-examine perceptions of who we are in relation to each other.

Hanriette Dahan Kalev
"Illusion in Assimilation"
You're so pretty; you don't look Moroccan.² Hanriette Dahan Kalev heard this statement repeatedly since immigrating from Morocco to Israel in 1949, when she was an infant. She learned two lessons from this experience: 1) the more European/less Moroccan she could be, the better; 2) with her green eyes and light skin, she had the ability to pass. So pass she did. From a very young age, Hanriette built up an illusion of who she was ­ a young French girl. She erased her Arabic accent; she never invited friends home; and she learned everything she could about French history, culture, and language. She kept up this charade until the day she looked in a mirror and saw nothing there.

Homa Sarshar
"In Exile at Home"
For two days in a row in October 1978, renown journalist Homa Sarshar was informed there were no reports for her to translate for Keyhan, the daily paper in Tehran. For two days in a row, French reports somehow appeared in the paper. On the third day, Homa confronted the editor of news services. What are you thinking, little girl?² he spat angrily, hatred filling his eyes. You think they're going to let some Jew translate reports on Ayatollah Khomeini? And a woman Jew at that? The news will be defiled!² Shocked and humiliated, Homa cleared out her desk and left her work of 12 years. As she drove home, she had the sinking feeling that it was time to leave Iran and that the 2,500 year history of Jews in Persia had just come to an abrupt halt.

Caroline Smadja
"The Search to Belong"
Surrounded by Tunisian Jews of her parents' generation, Caroline Smadja grew up with other people's memories and gestures, from a home that was lost. Family friends added spice, laughter, and boundless animation wherever they went. They told stories that made Caroline and her sister collapse in giggles on the floor. They cut each other off constantly, accompanied each sentence with wide hand gestures, and peppered their exchanges with Judeo-Arabic exclamations. They had a sense of belonging that Caroline could never feel among her peers in France. In search of her own place to call home, Caroline began a lifetime journey crossing the sites, sounds, and cultural textures of four continents, ultimately realizing she may never find that illusive sense of belonging.

Ella Shohat
"Reflections of an Arab Jew"
War is the friend of binarisms, leaving little place for complex identities. The Gulf War intensified a pressure already familiar to the Arab Jewish Diaspora in the wake of the Arab-Israeli conflict: a pressure to choose between being a an Arab and being a Jew. Ella Shohat's personal narrative questions this Euro-centric opposition of Arab and Jew, particularly the denial of Arab Jewish voices, both in the North African/Middle Eastern and American contexts.

Lital Levy
"The Flying Camel"
Lital Levy spent her 26th birthday at an academic conference addressing unity between Arabs and Jews. The featured movie told the story of a European-Israeli professor and a Palestinian sanitation worker, united in a common quest to restore the famous statue of the Flying Camel, symbol of the Tel Aviv of pre-State Palestine. Their efforts were thwarted when the camel's wings were located on a statue in possession of the Angels, a Mizrahi family that refused to relinquish the wings. The Angels ­ dark, stupid, and violent ­ were stereotypical, pejorative representations of Mizrahim. Distraught by the movie, Lital Levy uses the images of the film as a multi-layered metaphor. She explores the displacement of the hybrid category of Arab Jew and questions what is at stake in putting that category back together again. She links her experiences in America and in Israel, revealing the difficult process of self re-memberment.

Loolwa Khazzoom
"We Are Here, and This Is Ours"
In 1996, Loolwa Khazzoom flew from the U.S.A. to Israel to attend the first feminist conference for indigenous African and Middle Eastern Jewish women. Throughout this conference, multiple identity issues came to a head, resulting in numerous confrontations and a violent shouting match, where women stormed out. Documenting and evaluating these conflicts, Loolwa shares Mizrahi feminist perspectives on complex and volatile issues such as the Arab-Israel conflict, religious-secular battles, and tensions between East and West. She holds out the torch for hope that Mizrahi Jewish women will finally be recognized for who they are and that they will have a space to call their own.
Anthology Contributors
Yael Arami is an activist whose work addresses the complex intersection of religious, social, political, and economic issues for Mizrahi women, and her articles on these topics have been featured in Israeli periodicals including Noga and Kivun Mizrah. She is co-founder of an egalitarian Mizrahi prayer group in Jerusalem, and she is a former board member of Ahoti (My Sister) -- an organization focusing on the rights and economic advancement of working class Mizrahi women in Israel. Yael is in her third year of studies at The Eastern Music Center, where she learns religious Mizrahi music and classical Eastern music. She also received formal training in rabbinic studies, and her dream is to establish a progressive Mizrahi synagogue in Israel.
Gina Bublil Waldman is co-founder of Jews Indigenous to the Middle East and North Africa (JIMENA), through which she lectures widely about the history of Mizrahim and the Arab-Israel conflict. Prior to her work with JIMENA, Waldman worked extensively with Muslim refugees from Bosnia, for which she received the Martin Luther King, Jr. Humanitarian Award. In addition, she spent well over a decade as a leading activist in the Soviet Jewry movement.
Henriette Dahan Kalev is the head of the Gender Studies Program in the University of Ben Gurion in The Negev, and she has a Ph.D. in Political Science. She has written many articles on Mizrahi feminism and general political culture in Israel. Together with other Mizrahi friends, she founded the Hakeshet Hademocratit Hamizrahit (The Democratic Mizrahi Movement) and Ahoti (My Sister) -- an organization focusing on the rights and economic advancement of working class Mizrahi women in Israel. Henriette is an activist on numerous other human rights issues, as well.
Farideh Dayanim Goldin is the author of Wedding Song (Brandeis University Press, 2003), under the name Farideh Goldin, and her book is the first autobiography written in English by an Iranian Jew. She has published articles in anthologies and magazines including To Mend the World: Women Reflect on 9/11, Turnings, Bridges, and Nashim. Farideh studied Math and English Literature at Pahlavi University in Shiraz, Iran. She transferred to Old Dominion University in Virginia, where she received her BA in English Literature, MA in Humanities, graduate certificate in Women's Studies, and MFA in Creative Writing.
Mira Eliezer is a third year student at Michlala Academait Law School in Ramat Gan. She is co-founder of Tiduá, an alternative community college which she established with Mizrahi peers, and for ten years, she served as Assistant Director of HILA (Association for Education in the Poor Neighborhoods and Development Towns), offering counseling and support to parents challenging educational institutions. Mira also served as the Manager of Hakeshet Hademocratit Hamizrahit (The Democratic Mizrahi Movement), the Office Manager of the Tel Aviv branch of The Feminist Movement in Israel, and a volunteer for the Tel Aviv Rape Crisis Center. She currently works as Manager of the Foreign Affairs department at a local corporation.
Julie Iny is the Associate Director of Kids First, a multi-racial organization of youth and adults working to transform the systems that serve youth in Oakland, California -- including schools, city and county government -- through youth organizing, advocacy, and coalition building. Julie completed her undergraduate studies in Ethnicity and Public Policy at the University of California at Berkeley. During this time, she co-founded A Jewish Voice for Peace -- a grassroots organization in the San Francisco Bay Area, promoting co-existence and a just peace for the Israeli and Palestinian peoples. Julie credits the generosity and warmth of her Iraqi-Indian extended family, as well as the legacy of American Jewish involvement with labor, civil rights, and feminist struggles, as sources of inspiration for her activism.
Ruth Knafo Setton is the author of the The Road to Fez (Counterpoint Press, 2001). The recipient of literary fellowships from the National Endowment of the Arts, Pennsylvania Council on the Arts, and PEN, among others, her fiction, poetry and creative nonfiction have appeared in many journals and anthologies, including Best Contemporary Jewish Writing, The North American Review, Tikkun, Lilith, Another Chicago Magazine, The Jewish Quarterly, and Sephardic-American Voices. Ruth has taught Creative Writing in the MFA program at Georgia College & State University, and is now Writer-in-Residence for the Berman Center for Jewish Studies at Lehigh University. She is the Fiction Editor of Arts & Letters: A Journal of Contemporary Culture, and she is working on a new novel and collection of poems.
Lital Levy is a doctoral candidate in the Department of Comparative Literature at the University of California at Berkeley, where she works on modern Hebrew and Arabic literature and film, and she has furthered her graduate studies in Jerusalem and Cairo. A specialist in Mizrahi, Arab-Jewish and Israeli/Palestinian topics, Lital is preparing her dissertation on the late 19th-early 20th century writing of Egyptian and Iraqi Jews. Her writing has appeared in publications including Bridges, The Arab Studies Journal, Critical Sense, The Christian Science Monitor, and Jewish Film: A Resource Guide.
Tikva Levy is the Director of HILA (Association for Education in the Poor Neighborhoods and Development Towns), and her articles and poems have appeared in News From Within and Keys to the Garden: New Israeli Writing (San Francisco City Lights Books, 1996). She lives in Israel with her young daughter, Yasmin.
Bahareh Mobasseri Rinsler is a psychotherapist in private practice in Los Angeles, where she works with adults, children, and families. She received her B.A. in Women's Studies from UCLA, where she was co-founder of the first Rosh Hodesh Jewish women's ritual group, and she continued her graduate studies in Clinical Psychology at Antioch University. She lives with her husband Gregg, and their dog, Papaya.
Mojgan Moghadam-Rahbar is a freelance writer and translator of Iranian and American media, producer and host of Radio Voice of Iran, and the former editor-in-chief of Peyman magazine for young Iranian Jews in Los Angeles. She is the mother of two children and expecting a new baby.
Homa Sarshar is the founder of the Center for Iranian Jewish Oral History, as well as the author of two and editor of twelve books. Her latest single-author book, Shaban Jafari, was the number one best seller in several countries, including Iran, in 2003. From 1968-1978, Homa was as a correspondent reporter, special events reporter, and columnist for Zan-e ruz weekly magazine and Keyhan daily newspaper in Iran, where she also worked as the television producer, director, and talk-show host of National Iranian Radio & Television. Homa has received numerous awards for her work, including the Medal for Special Achievement in Women's Rights, given by the Iranian Women's Organization of Tehran, Iran. She currently works with Jaam-E-Jam Television in the Los Angeles area, and Yaran Radio, broadcast globally via satellite.
Ella Shohat is a professor of Cultural Studies at the departments of Art & Public Policy, Middle Eastern Studies, and Comparative Literature at New York University. She has lectured and published extensively on the intersection of post/colonialism, multiculturalism, and gender, both nationally and internationally. Her award-winning work includes the books Israeli Cinema: East/West and the Politics of Representation (University of Texas Press, 1989) and Unthinking Eurocentrism (co-authored with R. Stam, Routledge, 1994). Ella has curated a number of cultural events and has served on the editorial boards of several journals, including Social Text, Critique, Jouvert and Public Culture. Her writings have been translated into languages including French, Spanish, Portuguese, Arabic, Hebrew, German, and Turkish.
Caroline (pronounced Carolene) Smadja is an author currently living in France and writing a short story collection. Her writing has been published in the United States, Canada, South Africa, and France, including "Motherland," (Kinesis, April 2000), "After Dark" (Jewish Affairs, Fall 2001), "Healing" (Upstairs at Duroc), and "In Absentia" (California Quarterly). When Caroline is not writing, she teaches French and English to expatriates and works as an inter-cultural trainer. In addition, she is an active member of the Société d'Histoire des Juifs de Tunisie (Organization on the History of Jews from Tunisia).
Rachel Wahba has a private psychotherapy practice in the San Francisco Bay Area, where she lives with her partner of twenty five years, Judy Dlugacz. Rachel is currently working on her memoirs, Surviving Babylon. Her published writing includes: "Coming Out of the Frame: Lesbian Feminism and Self Psychology," in Lesbians in Psychoanalysis (The Free Press, 1995) and "Hiding is Unhealthy for the Soul," in Twice Blessed: On Being Lesbian, Gay, and Jewish (Beacon Press, l989).

Kyla Wazana Tompkins is doctoral candidate in the Program in Modern Thought and Literature at Stanford University. She is writing her dissertation on food and eating in nineteenth-century literature and in U.S. cultural history, and she has published in Tikkun, San Francisco Chronicle, and Globe and Mail.
Anthology Reviews
"Editor Loolwa Khazzoom has assembled testimonials that come together like some sort of truth commission..."The Flying Camel" is living history. The people who have written these essays have strong feelings about their connection to lands now exclusively identified with Arabs and Muslims. Their reflections will shock those who believe that Jews can be easily categorized. In words that are powerful and poetic, Khazzoom, Waldman and the other contributors come to terms with their multilayered upbringings. Through their struggles, they couldn't take their Jewishness for granted. Through their eyes, we see the progress they've already made in breaking down stereotypes and ugly assumptions." - The San Francisco Chronicle
"The essays in this book, which traverse landscapes from Iran to Los Angeles, from Morocco to Beersheba, from Tunisia to Paris, are almost uniformly excellent as they manage to get beyond the usual PC ranting to be both provocative and moving...the writing is...surprisingly beautiful." - Jerusalem Post
"The Flying Camel...stories are heart warming, heart breaking and vastly important to read...While the stories reflect a hardship beyond what most Jews of European descent have experienced in America, they also exude hope and passion for a Jewish future that will one day reflect the vibrant diversity of Jewish tradition and experience from around the world. Each story is powerful, gripping and unique." - InterfaithFamily.com

"The Flying Camel is both a travelogue of exile and longing...and a book that charts a new course...Asserting their identities with newfound confidence, the contributors are writing their stories into the larger story of Jewish history...Many of the essays include unforgettable imagery." - The Jewish Week

"The Flying Camel is the first collection of its kind, and in showcasing the vast diversity of the global Jewish experience (something far too few white American Ashkenazi Jews are aware of), it's invaluable." - Bitch

"The Flying Camel offers great insight into Jewish communities with which many of us will be unfamiliar; it offers those who are in similar situations a feeling of community, of not being alone." - Jewish Western Bulletin
"The Flying Camel is a path-breaking work edited by a young Sephardic activist/scholar Loolwa Khazzoom who attempts to provide an open forum for Sephardic women to discuss issues relating to identity...[It] must be read by all those who see themselves as participants in the ongoing dialogue taking place around ethnic identity and gender in the Jewish community." - Sephardic Heritage Update
Anthology Endorsements
Body Outlaws
Lilith Magazine
That Takes Ovaries!
Yentl's Revenge
PROFESSORS
Barnard College-Columbia University
Ben-Gurion University
Clark University
East Carolina University
Florida International University
George Washington University
Georgetown University
Harvard Divinity School
Harvard University
Iowa State University
Ithaca College
Jewish Theological Seminary of America
Lehigh University
Marylhurst University
Princeton University
Stanford University
Temple University
University of California, Santa Cruz
University of Colorado
University of Illionis at Chicago
University of Nebraska at Kearney
University of Wisconsin-Milwaukee
Yale University
York University
"I have long felt the need for such a book as The Flying Camel, and for a representation of the voices and perspectives within it."
Leila Ahmed
Professor of Women's Studies in Religion
Harvard Divinity School
Cambridge, MA
"The Women's Studies Program and Religion Department at Temple University find The Flying Camel of great importance in teaching courses in "International Women's Writing" and "Women, Religion and Society.""
Rebecca Alpert
Associate Professor of Religion and Women's Studies
Temple University
Philadelphia, PA
"The Flying Camel provides a wonderful opportunity to reflect on an unjustly neglected identity and to see it through the eyes of those who have lived it. It is certainly true that the lives of Jewish women from the Arabic-speaking world are unknown to too many in our society and that our understanding of questions of Arab, Jewish, and American identities are diminished by our ignorance. I find this book useful in the courses I teach on questions of identity and ethics in the contemporary world."
Kwame Anthony Appiah
Professor of Afro-American Studies and Philosophy
Director of Undergraduate Studies
Harvard University
Cambridge, MA
"The Flying Camel is a powerful anthology of creative works by North African and Middle Eastern Jewish women whose voices have rarely been heard either in the United States or in Israel. These women embody the "impossible": They are Jewish and Arab, feminist and lesbian, women of color, and indigenous to North Africa and the Middle East. Their stories of struggle and sacrifice give us reason to hope that in this time of terrible suffering and war, peace and justice may continue to be our twin aspirations. This book could not be more timely, and is of great benefit to those of us teaching in Women's Studies and Jewish Studies programs."
Bettina Aptheker
Professor of Women's Studies
University of California, Santa Cruz
Santa Cruz, CA
"The Flying Camel fills a gap in three separate academic areas – Women's Studies, Jewish Studies, and Multicultural Studies. I will speak to the area of Women's Studies, since that is the area in which I teach: First, there is not enough literature or knowledge about Jewish women in general. Second, for those of us who teach in the Northeast, Jewish women are often a large percentage of our students. I have usually about 50% Jewish women in my "Women's Lives" class. Third, and perhaps most important, this book will offer something that does not exist now – a recognition that not all Jewish women are from European backgrounds. There is a real need for a multicultural analysis of Jewish people and therefore also Jewish women. This book offers just that analysis.
Beyond the needs of Women's Studies, I think that in this moment in time, a multicultural analysis of Jewish people, including Jewish people from African and Middle Eastern backgrounds, is crucial. What happened on 9/11 has finally taught us that we need to learn more about the world outside of the U.S.A., and the Middle East violence has taught us that we need to understand more fully the problems in that area. This book breaks down the falsely constructed duality between Arab and Jew and offers us a more complex and complete picture of identity in that region."
Judith Barker
Professor of Sociology
Ithaca College
Ithaca, NY
"I am interested in this book for my course, 'Women in the Modern Middle East.'"
Joel Beinin
Professor of History
Stanford University
Stanford, CA
"The Flying Camel is a truly innovative and original contribution; there is no other book dealing with this topic in the literature on Women's Studies."
Lila Braine
Professor of Psychology
Barnard College-Columbia University
New York, NY
"The Flying Camel illuminates the ethnic diversity among Jewish women and explores the misconceptions that many Americans (and others) have regarding the Jewish population and the Middle East conflict, e.g., that there cannot be an overlap between Arabs and Jews. The trend today is for Women's Studies curricula to become increasingly diverse and international in scope, and therefore I think that the book would be of interest to many faculty teaching women's studies courses. The collection also is very timely. It clearly counters the stereotypes of Arabs that have been so unfortunately fueled by the recent tragic events, and brings more understanding of the complexity of the Middle East conflict."
Jill M. Bystydzienski
Director of Women's Studies
Professor of Sociology
Iowa State University
Ames, IA
"The Flying Camel fills an important curriculum gap in Anthropology and Gender Studies. It is particularly timely now, as questions regarding the culturally prescribed rules and variations in practice by Middle Eastern women is most relevant. I teach courses in Gender Studies and find a book on this topic most helpful."
Janet Chernela
Professor of Anthropology
Florida International University
Miami, FL
"Loolwa Khazzoom has compiled a captivating collection of first-person accounts that makes us alternately cry for and celebrate the all-but-forgotten Jewish women of Africa and the Middle East and their American descendants. Stories of adventure, loss, degradation, courage, and personal triumph provide insight into the fascinating mix of Moslem and Jewish culture and its collision with contemporary American values. At this time in our history, we as Americans are starting to wake up to the world around us, especially to the plight of women in the Middle East. Khazzoom's work makes a fine contribution toward lifting the veil from our own eyes."
Carrie Yang Costello
American Sociological Association Council Member
Race/Gender/Class Division
Assistant Professor of Sociology
University of Wisconsin-Milwaukee
Milwaukee, WI
"A provocative collection that attempts to untangle complicated webs of anti-Semitism, racism, and misogyny, The Flying Camel presents a chellenging introduction to complex struggles around issues of identity and community."
Angela Y. Davis
Civil Rights Activist, Author
Professor of Women's and African American Studies
UC Santa Cruz
Santa Cruz, CA
"Blasting away every bagels-and-lox cliche, these writers reveal the rich, vital, and shamefully overlooked dimensions of Jewish identity, reminding us that Jews are a rich strand of multicultural, global communities."
Ophira Edut
Editor
Body Outlaws
"There is no question that The Flying Camel fills a gap in the available literature on the intersections between gender, ethnicity, nationality, and religion. I know of no such book of first-person, experiential accounts by Jewish women of color; the very idea of the book complicates the notion of "the Jewish community" in interesting and useful ways. This book is a useful undergraduate teaching tool for Women's Studies courses, Ethnic Studies courses, Judaic Studies courses, and for Sociology courses that deal with the complexity of collective and individual identities."
Joshua Gamson
Department of Sociology
University of San Francisco (formerly at Yale)
"The Flying Camel is a much-needed and welcome addition to the voices of women oppressed not just because of gender but also because of race, ethnicity, or religion. The voices of the many Jewish women in the text cry out with anger and also conviction against the injustices committed against them. This is an excellent text for Women's Studies programs as well as Theology, Sociology, and Anthropology courses. It exposes the reader to new understandings of Judaism and challenges all of us to listen and learn."
Diana L. Hayes
Professor of Theology
Georgetown University
Washington, D.C.
"While there is a great deal of literature on Jewish women, very little of this work specifically addresses the experiences, perspectives, and issues of Jewish women of color. The Flying Camel is timely and offers a much-needed discussion of diversity within Jewish culture and among Jewish women. The insights that it providea on the Arab-Israeli conflict are especially important, given the on-going tensions and violence in the Middle East. The book is useful for Women's Studies as well as Jewish Studies classes and fills a void in the study of Gender and Jewish Culture."
Janet Jacobs
Professor of Women's Studies
University of Colorado
Bolder, Colorado
"It is most exciting to learn that there is a book which deals with the North African Jewish women's experience, which has been ignored until now. It is a necessary addition to any study of Jewish culture, and especially the lives of women."
Aliza Keddem, Ph.D.
Professor of Human Sciences
Marylhurst University
Marylhurst, Oregon
"I have been teaching "The Jewish Women: Some Historical and Cultural Perspectives" since 1995. A primary aim in all my courses is to provide students with a perspective that includes the diverse and international history and culture of Jews.
I have had great difficulty in balancing my syllabus with materials specifically on North African and Middle Eastern Jewish women and generally on Jewish women of color, because not many materials have been available. I was, therefore, greatly pleased to find the work of Loolwa Khazzoom in an issue of Bridges magazine and have included in my syllabus her article, "A Bridge Between Different Worlds" since its first appearance in 1995. Its feminist passion and commitment to honoring and maintaining North African and Middle Eastern Jewish identity was an eye-opener to my students of European background and an inspiration to those from non-European backgrounds.
Ms. Khazzoom has contributed other materials to Bridges magazine, which I have also used. But clearly many voices and perspectives are needed. The rich and complex experience of North African and Middle Eastern Jewish women cannot be captured in a single article or story. I am heartened that Ms. Khazzoom has edited an anthology which begins to address this complexity. The Flying Camel helps provide the broader perspective that is needed in all Jewish courses, a perspective that many of my colleagues seek."
Irena Klepfisz
Associate Professor of Women's Studies
Barnard College-Columbia University
New York, NY
"The Flying Camel explores Jewish identities in all of their varieties and complexities. Through critical essays and creative narratives, readers are introduced to deeply emotional identity searches and long-held cultural practices. The collection is not only timely, dovetailing with multicultural efforts in our communities and in our universities, but also necessary. For Jewish Studies instructors who wish to introduce their students to the continued struggles of and range of voices among the Jewish people, this text should be a requirement; for Women's Studies instructors who wish to diversify stories about and by women of the East, this collection is equally essential. This text cuts across many academic fields in honestly and openly confronting issues of identity, gender, and social isolation."
Miriamne Ara Krummel
Assistant Professor
Department of English
University of Dayton (formerly at Lehigh)
"Today, good teaching and scholarship demand that the diverse voices of women be heard and represented first hand. I am therefore always on the lookout for books like The Flying Camel that provide these voices, along with a commentary that reflects current trends in scholarship."
Becky R. Lee
Assistant Professor of Humanities and Women's Studies
York University
Toronto, Ontario, CANADA
"As the interest in Jewish Women's Studies continues to grow, we become more sensitive to the gaps in our knowledge. It is imperative that we include in our understanding of the field the historic and contemporary experience of the full range of Jewish women. Loolwa Khazzoom's book fills in an area which is often overlooked and thus provides ample material both for those engaged in the academic study of the field and for the large group of non-academic interested readers."
Professor Anne Lapidus Lerner
Director of Jewish Women's Studies
Jewish Theological Seminary of America
New York, NY
"I am impressed by the wide spectrum of writers and issues in The Flying Camel. This insightful and rich volume contributes significantly to the current knowledge about women in modern Arab societies."
Yoram Meital
Department of Middle Eastern Studies
Ben-Gurion University
Beer-Sheva, ISRAEL
"The Flying Camel is a useful addition to those texts on ethnic and religious diversity available to professors teaching courses with a cultural diversity component. The chapters are both compelling and accessible to an undergraduate audience, and describe the experiences of individuals with whose backgrounds many will be unfamiliar. This book can be used for courses in Sociology, Women's Studies, Racial and Ethnic Minorities, World Cultures, and Cultural Diversity."
Bonnie J. Morris
Professor of Women's Studies
George Washington University
Washington, D.C.
"The Flying Camel is exactly the sort of collection that is needed in both Jewish Studies and Gender and Women's studies today. Jewish studies is far too Euro- and U.S.-centric, and the perspectives offered by these essays helps students and faculty alike understand the many different cultures and communities that fall under the rubric of Judaism worldwide. Nearly all the essays expose the ethnic and racial cleavages that lie hidden within the supposed unity of "the Jewish community," and many provide deep insights into the political as well as cultural implications of these cleavages. The collection also has much to offer the field of Gender and Women's Studies. Given both current events and recent world history, there is a good deal of unexamined anti-Semitism in this field. By demonstrating the multi-ethnic constitution of global Jewry, the essays help break down the first-world/third-world tension that often crops up in Gender and Women's Studies courses, placing Jews on the "politically incorrect" side of that divide. In addition, the essays' sensitivity to sexual identities within Jewish communities fit very well with ongoing concerns about this issue within the field."
Sonya Michel
Professor of American Studies and History
University of Maryland, College Park (formerly at University of Illinois)
"For too long, the overlapping movements for Jewish and feminist visibility have ignored North African and Middle Eastern Jewish women, but Loolwa Khazzoom's new anthology challenges that posture of exclusion. Especially now, it is urgent that activists concerned with both Jewish survival and female empowerment hear the voices of women whose traditions and experiences are not those of hegemonically represented Eastern European Judaism. In The Flying Camel, contributors challenge notions of Western "Jewish culture." They also have much to say to the men of their own communities and to anyone who identifies with the struggle of being an exoticized "other." The anthology is a much-needed letter from women who cross ethnic and gendered borders in their daily lives as Jews. And the book is an enormous asset at a moment when American scholars and media seek authentic representation of Middle Eastern women's issues."
Margaret O'Neal
Assistant Professor of Psychology
East Carolina University
Greenville, NC
"There is no question that a more thoughtful view of the role of North African and Middle Eastern Jews, particularly those of the women, is crucial to an understanding of many issues relating to Middle Eastern society and history, and The Flying Camel is a most valuable contribution."
Lawrence Rosen
Professor of Anthropology
Princeton University
Princeton, NJ
"It's about time! The Flying Camel is an important, long-overdue book that will make an indelible, desperately needed mark on American Jewish life."
Danya Ruttenberg
Editor
Yentl's Revenge
"The Flying Camel is desperately needed by those of us who teach courses within Jewish Studies and within Women Studies. While we have a selection of undergraduate and graduate texts on white Ashkenazi (Central/Eastern European) Jewish women, we do not have a single anthology on North African and Middle Eastern Jewish women. As a result, Jewish women of color are almost always rendered invisible within the university curriculum. At best, they make a very token appearance. Ms. Khazzoom's book makes an important contribution towards rectifying this serious (and intolerable) omission."
What a treasure this book holds! for many of us whose Eastern European culture has for so long been taken as the Jewish norm, The Flying Camel provides the missing tiles in the mosaic puzzle which is the global story of Jewish women's lives."
Susan Weidman Schneider
Editor-in-Chief
Lilith Magazine
"The experiences, ideas, and values of Jewish women are not monolithic. Khazzoom, founder of the Jewish multiculturalism movement, brings us the plethora of voices present in global Judaism. The fact that these voices are female makes this collection of essays all the more exciting and ground-breaking. Jewish women, in all our difference and diversity, unite!"
Rivka Solomon
Editor
That Takes Ovaries!
"I strongly support the publication of The Flying Camel. This anthology is desperately needed by those of us who teach courses within Jewish Studies and within Women Studies. While we have a selection of texts on white Ashkenazi women, we do not have a single anthology on North African and Middle Eastern Jewish women. As a result, Sephardic and Mizrahi women are almost always rendered invisible within the university curriculum. At best, they make a very token appearance. Ms. Khazzoom's book will make an important contribution towards rectifying this serious omission."
Shelly Tenenbaum
Chair of Department of Sociology
Clark University
Worcester, MA
"The Flying Camel is an important contribution to the literature about women's lives and voices. Ms. Khazzoom does a great job of compiling the voices of North African and Middle Eastern Jewish women. This book shows a part of Judaism that is virtually unknown to most people, including Jews."
Diane Kholos Wysocki
Director of Women's Studies
Associate Professor of Sociology
University of Nebraska at Kearney
Kearney, NE