Get noticed with a rock star bio!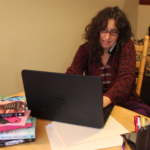 This live and interactive program is with Loolwa Khazzoom, a seasoned public relations manager who works with top media including The New York Times, Doctor Oz, Fortune, Rolling Stone, CNN, The Washington Post, Marie Claire, AARP, Yoga Journal, Seventeen, BBC News, Forbes, Self, The Boston Globe, and numerous other leading outlets internationally.
You will learn the following: 
1. which 5 elements to include in your bio, to establish you as an expert in your field
2. how to identify your essence, your "bling," and your edge, to excite people about who you are and what you do
3. how to organize all of these moving parts, to create a bio that goes "POW!" right in the kisser.
4. how to optimally use your bio, to get noticed by your target – whether an editor at a magazine or a boss at a company
5. how to turn your bio into a living, breathing document that reflects your growth and power, and that attracts bigger and more powerful targets, over time
Additional perks
Not only will you learn how to write a rock star bio, but you will get a sneak peek at how to become a "rock star" – learning how to climb the ranks of prestige in your field, by effectively leveraging each of your accomplishments.
About the Facilitator
Loolwa's work has been featured in The New York Times, Rolling Stone, CNN, Marie Claire, BBC News, and other top media worldwide; she has published two books that have been taught throughout the Ivy League and at universities nationwide – The Flying Camel: Essays on Identity by Women of North African and Middle Eastern Jewish Heritage and Consequence: Beyond Resisting Rape; she has lectured at prestigious venues ranging from Barnard Center for Research on Women and Harvard University on the East Coast, to the Simon Wiesenthal Center and Skirball Cultural Center on the West Coast; she has been featured in documentaries including "The Way Home," "The Forgotten Refugees," and "Young Jewish, and Left;" she has published essays in numerous anthologies, including That Takes Ovaries!, Best Jewish Writing, and Body Outlaws; and she has worked with and/or facilitated her clients working with celebrities including integrative medicine doctor Mehmet Oz MD, supermodel Tyra Banks, talk show host Montel Williams, NBA star player Brian Grant, and award-winning musician Matisyahu.