Program Details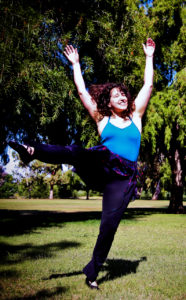 Preliminary trials indicate that the Dancing with Pain® method has a 96% rate of efficacy in treating a wide range of pain-related conditions. Now you can practice this method in the comfort of your own home! Check out this video for Loolwa Khazzoom's story of healing chronic and debilitating pain through the Dancing with Pain® method.
"It is likely that through reframing and refocusing the relationship to one's pain, the Dancing with Pain® methodology activates the nervous system in new ways that alter, suppress, or potentially even replace the 'stuck' pain pathways." – Martin Rossman, MD, integrative medicine pioneer and Dancing with Pain® advisory team member. Learn more about the Dancing with Pain® advisory team of doctors and body workers.
This class is especially useful for the morning hours, right after waking up — when you may feel especially stiff and in pain. The dance begins slowly and gently, with meditative and soothing music — guiding you on scanning your body and finding the places of comfort and ease, no matter how tiny they may be. As you fill up these areas with a sense of awareness and pleasure, you will progress at your own pace, honoring your own body's limitations while expanding your pain-free zones. As in every Dancing with Pain® class, you are the boss, the master of your own body — ensuring that you stay safe throughout the session. Find out what pain patients are saying about the Dancing with Pain® method for natural pain relief!
This audio class comes with an accompanying visual booklet explaining the science behind the method; offering tips on how to create the ideal dance environment — whether lying in your bed, sitting at your kitchen table, or standing on your living room floor; sharing the basics of how to move different parts of your body safely; and providing information about the musicians featured in the soundtrack.